With all that's happened within the sphere of Nerdcore Hip Hop over the past year, I thought now would a good time to take a look back on the landscape of geeky rap and those major players who have populated this strange and very often misunderstood world of beats, rhymes, and… dice.

This list, of course, is not solely my own; it's a compilation of the ideas and opinions of many nerdcore fans and some of the artists themselves. Special thanks go out to Dan Lamoureux, director of the upcoming Nerdcore For Life documentary; Gabriel of Nerdcore News; the fans, musicians, lurkers, and mildly interested passersby over at Rhyme Torrents; and friends of Hipster, please! who spread the word about the project.

And now that all the formalities are out of the way: on with the show.

10. Ultraklystron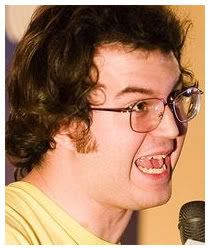 Karl R. Olson's lyrics are such a beautiful tangle of
otaku
imagery and slice-of-life recollections that one sometimes has to stop and ponder exactly how deep his metaphors run. Is each track, on one level or another, a personal account? Does each Ultraklystron song contain a single player that signifies Karl himself? Are all characters – like some hokey dream interpretation rubric – a figurative embodiment of Ultraklystron? Despite all the questions, all these lines blurred between straight narrative and alliterative impressionism, Ultraklystron manages to deliver a unique brand of nerdcore that is both satisfying and enlightening, even to the non-otaku constituent.
Visit - Listen - Watch - Befriend
9. Futuristic Sex Robotz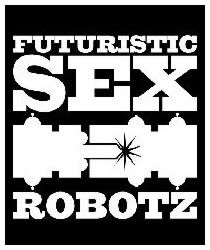 With the release of their 2006 free-to-download album
Hotel Coral Essex
,
Futuristic Sex Robotz
burst onto the fledgling nerdcore scene with an eclectic sound that preached the glory of marathon gaming sessions and recalled the golden age of the BBS. Coaxke, PC Speaker, BonzoDog, Recycle Bin, and Subrandom traded verses over cleverly crafted hooks incorporating everything from movie samples to Motherboard's own silky-smooth vocals. The result was a cohesive release that dwarfed the output of all but the most established acts of the age.
Visit – Listen – Watch – Befriend
8. MC Router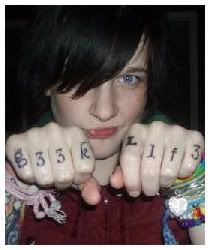 MC Router proudly calls herself
The First Lady of Nerdcore
, and few would disagree. Whether backed up by her longtime collaborator
T-byte
, her
Mediocre Tour
ally
Doctor Popular
, or any other of a rotating cast of characters, Router's unmistakable voice and in-your-face disposition uniquely color any track she touches. Recently, MC Router has become one of nerdcore's most talked-about artists, garnering attention from the
media
at
every
turn
. With her longtime feud with
Nursehella
squashed and a new release in the works, MC Router is both an important part of nerdcore's past and of its continued evolution.
7. MC Hawking
Stylistically situated somewhere between the educationally caustic rap of
MC Paul Barman
and the comical mimicry of
Dread Zeppelin
lies
MC Hawking
. Web developer Ken Leavitt-Lawrence adopted the persona of this foul-mouthed, hard living parody of famed theoretical physicist
Stephen Hawking
in the early 2000s, and in doing so helped to define nerdcore in its earliest stages. Though the Hawkman is less musically active now that nerdcore hip hop has blossomed into a full-fledged movement, his influence, impeccable comic timing, and robotic flow are still remembered and admired.
Visit – Listen – Watch – Befriend
6. MC Lars
MC Lars
calls his style "post-punk laptop rap," but it bears all the earmarks of nerdcore. Lars effortlessly blends roots hip hop with the musical spirit of punk rock in a manner that produces both head-bobbing studio tracks and frenetic live sets. With a lyrical style that owes as much to classic literature as it does the modern sensibility of a man steeped in the digital age, his songs handily create the soundtrack for the lives of college students everywhere, whether they realize it or not.
Visit – Listen – Watch – Befriend
5. Beefy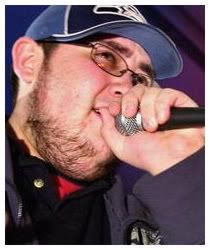 Beefy
, Keith A. Moore, His Beefyness, and, most recently, Beef Thompson are just some of the names ascribed to Pasco, Washington 's resident rhyme slinger. With a healthy ego, a grocery list of nerd cred, a love for rap, and talent to spare, Beefy manages to make tracks about
Chun-Li
, comic books, and heartbrokenness seem equally weighty. Perhaps more than any other artist, Beefy embodies the spirit of 2nd gen nerdcore: he proudly wears his influences on his sleeve without ever sounding hackneyed or overly referential. With his previous release
Tube Technology
still fresh in the minds of his fans, Beefy is already hard at work for a projected June release of its follow-up
Fighting Crime.
Visit – Listen – Watch – Befriend

4. Optimus Rhyme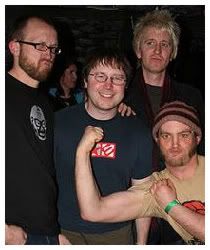 Optimus Rhyme
are the
Elvis Costello and the Attractions
of nerdcore hip hop; they contribute to the strength and legitimacy of the movement by simply doing their own thing and wholly refusing to sound like anything or anyone else. Stumblebee, Powerthighs, Grimrock, and Wheelie Cyberman (occasionally aided by fellow Seattle MC Broken English) bring a mixture of rap, funk, and sci-fi storytelling the likes of which can't be adequately explained in this constricted communiqué. Their
Jack Endino
-produced
School the Indie Rockers
is, without a doubt, the most polished and professional nerdcore release to date, and their live shows are the stuff of legend.
Visit – Listen – Watch – Befriend
3. mc chris
mc chris
is surely the unlikeliest of heroes, but there's clearly no other way to describe him within the context of nerdcore. At odds with the classification from the start, mc recently realized that, while he may not consider himself a part of nerdcore hip hop proper,
his influence and inspiration
have helped to shape the landscape like no one else. Many fans first became aware of the concept of geek rap through his work on Adult Swim's
Sealab 2021
and
Aqua Teen Hunger Force
, and many artists cite his seminal
Life's a Bitch and I'm Her Pimp
among their early nerdcore influences.
Visit – Listen – Watch – Befriend
2. YTCracker
The battle for the number one spot on this list was, from the get-go, a two horse race. It can truthfully be said that
YTCracker's
fans are a rabid legion, and, consequently, it's hard to hear YT – or to see him perform live with his
Spamtec
group-mates – without becoming a fan. With a style that's equally accessible to nerds and non-nerds alike, a writing credit on
Too $hort's
2003 release
Married to the Game
, an impressive list of DJ and performance credentials, and a celebrated
hacker
past, YTCracker is a big fish in the small pond with his sites set firmly on the ocean. Interested parties are encouraged to sample his freely downloadable 2005 album
Nerdrap Entertainment System
, but save room for the main course: 2006's
Nerd Life.
Visit – Listen – Watch – Befriend
1. MC Frontalot
MC Frontalot
was not the first geek to turn to music as a creative outlet. He wasn't even the first dork to bust rhymes. And when he coined the phrase "
Nerdcore HipHop
" in 2000, it's doubtful that he actually intended to craft a term for a style of music that would launch its own mini cultural awakening. Yet this ironic, self-deprecating description of his own style became a rallying cry for nerds everywhere. Featured in
video games
, honored in
comic books
, undefeated at
Song Fight!
, and praised by nerd culture prophets
Gabe and Tycho
, MC Frontalot showed the world that that rap and nerd life were not only compatible, but congruent.
Of course, this list would not be complete without acknowledging at least a handful of the other notable artists who merely skirted inclusion in the above. And, with that, Nerdcore Superlatives:
The Lifetime Achievement Award for Exemplary Musical Nerdiness: Baddd Spellah
Baddd Spellah is
admittedly
not nerdcore, but his unique production style has left fingerprints across the
breadth
of the musical community. Through his work with MC Frontalot, his masterful remixing of artists like mc chris, and his own solo work, Baddd Spellah has left an indelible impression on the sound of nerdcore hip hop.
Visit
–
Listen
–
Befriend
Ultimate Nerdy Musical Collective: Emergency Pizza Party
EPP, either by design or simply necessary function, encompasses a staggering array of Florida nerdcore artists: from founding members
Betty Rebel
,
MC Wreckshin
, and
Sir-Up
to new additions
Jeff MK
,
Benjamin Bear
, and
Fanatical
to unofficial associates like
Signed Long Int
and
funky49
. Their collaborative style is astounding, and the sheer number of participants guarantees that everyone will find something to their liking.
Listen
–
Befriend
Most Important Beef: MC Plus+ vs. Monzy
Though thoroughly fabricated,
the conflict
between these two
CS Gangstas
attracted attention to both their own musical undertakings and the concept of
nerdy rap
itself. Nerdcore owes a great debt to these two programmers/PhD students.
MC Plus+:
Visit
–
Listen
–
Befriend
Monzy:
Visit
–
Listen
50% Nerd, 50% Hip Hop: Metamystiks Inc.
Demonstrating a style much more akin to the conscious alt-rap of
Jesse Dangerously
than the rapid-fire geekery of
Lords of the Rhymes
,
DJ Snyder
,
myf
, and
Super Dragon X
are a trio of musicians separated by geography, but flawlessly united by a shared passion for music. There style is adequately described as both nerdy rap and rap that just happens to be produced by artists with nerdy predilections.
Listen
–
Befriend
New Artist to Watch: Zealous1
Zealous1 was thrilled with the discovery that his life-long love of music and poetry seamlessly melded into the nerdcore style. In the short time he has been actively involved in the scene, Zealous has managed to cultivate tremendous fan support and a reputation for excellence. His album
Collaboc1de
, literally packed with special guests, is a testament to his love for nerdcore and its ardent reciprocation.
Visit
–
Lis
ten
–
Befriend