They say you can tell a lot about a man by the company he keeps. If this is true, then perhaps I'm a bit more relevant than I give myself credit for. You see, I've had the pleasure of helping
Doctor Popular
,
TradeMark G.
, and
Tanner
put together an event for the ages:
The Crate Digger Death-match
!
The CDD challenges artists to create an album's worth of music in a mere 12 hours using only $12 worth of materials purchased on the day in question from thrift stores. Compelling, no?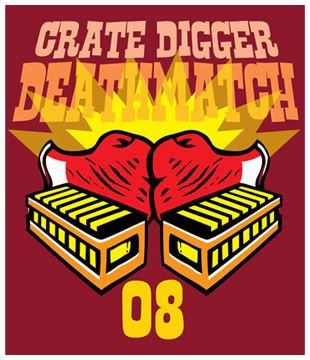 The challenge is scheduled to take place Saturday, January 5th, and all submissions must be turned in to yours truly by 8:00 AM the following morning. The albums will then be judged by a panel of 4 experts – well, 3
experts
and me – but a showcased single from each disc (picked by the artists themselves) will be posted publicly for online fan voting. On the following Saturday, the results of the judges scores and online voting will be tallied, and the first
King of the Crate Digger Death-match
will be crowned.
The event is capped at a maximum of 12 participants, and the good Doctor, T-Byte, and TradeMark have already been joined by the likes of nerdcore producer
nYgel
and beatsmith extraordinaire
Bomarr
. Suffice it to say this is going to be one to watch.
But why just
watch
when you can take part? The clock is winding down, but slots are still available. So if you'd be interested in challenging yourself to create something memorable from the most mundane of sources, take a gander at
these handy rules and regulations
and throw your hat in the ring. There can only be one King of the CDD, and it could very well be you.