So inspired was I by today's release of
The Adventure's of Beef Thompson: Private Dick
– an album, coincidentally, that I helped name – that I celebrated the event by getting a tattoo.
Okay, that's actually bullshit. I mean
TAoBT:PD
did drop today and I did get this snazzy D20 tat, but these events were linked by nothing more than the silver strings of coincidence.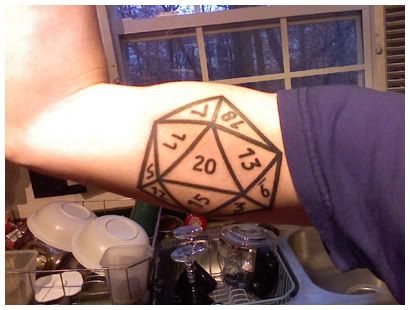 Still, many delightful occurrences did conspire to make this day a perfect storm of geeky goodness, and for that I must thank the many fine people who contributed.
Heartfelt thanks to my friend
Denika
for putting together the original flash for me.
Sincerest appreciation also goes to Hans, a gentleman that is, in my opinion, easily one of the finest and most talented tattoo artists in
The Queen City
. (He is also likely Charlotte's tattoo artist that most resembles the
cartoon incarnation of Ghostbuster Egon Spengler
, but that's neither here nor there.)
Much love goes out especially to my best friend
Josh
(A.K.A.: Seamonkey), for giving me the most kick-ass Christmas present ever.
And, of course, I gotta give a shout-out to my boy
Beefy
for providing the soundtrack to today's festivities.
If you haven't already, I'd suggest you
download
Beef's latest release immediately. It's a welcome addition to any collection.
I'd also suggest getting a bold, line-art tattoo that hearkens back to the golden age of tabletop roleplaying. But be forewarned: there is some mild discomfort involved.