As previously announced
here
at
Hipster, please!
(and at a number of
other
,
more
reputable
sites
), last Saturday marked round 1 of the music competition/scavenger hunt that is the
Crate Digger Death-match
. I reckon there are a number of questions on the mind of the casual observer, the most obvious being:
Well, how the hell did it go?
While my perspective on the events that transpired is probably a little skewed – as I wasn't down there "in the trenches" – I'm gonna go ahead and say that the experiment was a success. Sadly, only seven of our dozen Crate Diggers were able to complete the monumental task within the time allowed, but, like life itself, this wasn't all about the destination; it was also about the journey.
We had, for example, a disproportionate number of contestants from California's Bay Area, which on the days leading up to the competition was
damn-near underwater
. Still, these Crate Diggers crossed their fingers, and, on the day of the competition, found that they had not only survived the inclement weather with their sanity intact but also
their electricity
.
To celebrate this good fortune,
Doc Popular
took some
great pictures
of himself and
TradeMark G.
foraging for supplies at their local Community Thrift. TradeMark even went so far as to audio blog his findings when he returned home to the lab.
TradeMark went on to complete and deliver his submission, while, unfortunately, the good Doctor was KO'ed by eleventh hour hardware failure. But the Crate Digger Death-match, despite its gruesome title, is a friendly competition; TM,
Tanner
, and the other competitors all but demanded that, despite the fact that his album wouldn't be eligible for the judging portion of the competition, Doc still share his efforts with the rest of the class. Just this morning, Doc Pop unleashed Drown Radio's
codfresh
upon the world. You owe it to yourself to take a listen. It's a thrift shop masterpiece.
Another competitor who failed to make the deadline but no less favored us with some
A
class material is producer and sound engineer
Larry Legend
. Though Larry's logged studio time with some
hip-hop heavy hitters
, he was thrilled at the opportunity to get his hands dirty in the CDD and really push himself to explore the world outside of the "musical and technical boxes" in which he normally confines himself. Larry's story is perhaps my favorite of the contest, as he admitted that he was so caught up in harvesting samples and exploring the wonderful world of circuit bending that he failed to adequately budget his time.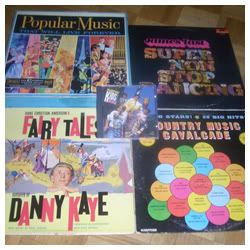 Read that again folks:
he was having so much fun that he literally got sidetracked by his own work
. If there's any indicator that the goal of the CDD – to inspire artists to create outside their comfort zone and (hopefully) genuinely learn a little something – was met, then that's it right there.
Larry did submit one song for our enjoyment. (Though, again, it can't be part of the actual contest.) This is what a dude who's genuinely having fun with his music sounds like.
But enough about the contest itself, let's talk about the finalists.
On Saturday, our Crate Diggers awoke to find a friendly email from your truly stating that, in addition to the already restrictive cash, time, and technological constraints, they were also obliged to include within their projects three artistic motifs. They were as follows:
Motif #1: "Made in the 80's."


A minimum of one thrift store item that you purchase with your allotted $12 must have been created in the 1980's. Unlike albums, things like electronic devices may not have an easily discernable release date. In this situation, use your best judgment.

Motif #2: "Bent over backwards."


At least one song on your album must include either A) a prominent musical element, movement, or sample that is played backwards or B) a prominent musical sound or element that is generated by a circuit bent or otherwise altered electronic device.

Motif #3: "Country House."


Each album must include either a country song or a dance track. Again, I leave what does and does not qualify as "country" or "dance" up to your own judgment.
These seven gentlemen managed to make the most of their meager thrift store finds, maintain a strict timetable for proper completion, include the three aforementioned and wholly arbitrary elements, and cope with a wealth of individual hardships and setbacks to complete the first round of the Crate Digger Death-match.While our honorable judges (and I) scrutinize the finished albums and our crack technical crew prepares their single submissions for open online voting, why not check out the artists on the roster? One of them will shortly be named the King of the Crate Diggers... and if you ask nicely maybe they'll even let you score a copy of their submission albums!
Antisocial
Hails from:
Bedford, TX
Album title:
Old Toys and Broken Tapes


Bomarr
Hails from:
Oakland, CA
Album title:
Crate Digger Death-match
D-Form
Hails from:
Torrance, CA
Album Title:
Up or Down
Evolution Control Committee
Hails from:
San Francisco, CA
Album title:
A Dozen Bucks a Dozen Hours Cut-and-Paste Super Powers
Snake Eyes
Hails from:
Toronto, ON
Album Title:
True Tales
Tanner4105
Hails from:
Fort Worth, TX
Album Title:
God Bless You and Best Wishes! (Love, Shelly Knapp)
Tyler2000
Hails from:
Huntsville,AL
Album title:
ndzyeht